14 Mar

The future of the SmartWork solution

"The results of the pilots are very promising, we have a great solution."

Fireside chats with the coordinator and the leaders of the pilots about the future of SmartWork.

At the end of the project, ECHAlliance's Innovation Director, Karolina Mackiewicz, spoke with the project coordinator, Andreas Raptopolos (BYTE Computer) and the leaders of the pilots, Tom Ch. Thomsen from Denmark (Center for Assisted Living Technology) and Flavia Rodrigues from Portugal (Caritas Coimbra) about their hopes and expectations for the SmartWork and the future of the solution.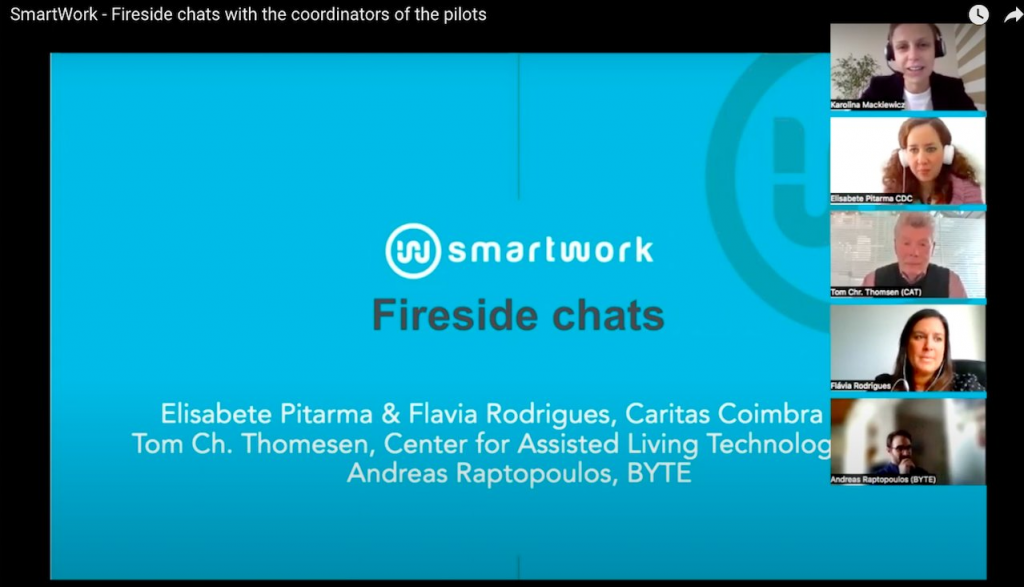 "We believe that investing in research and innovation we can improve the quality of life of our workers"

Flavia Rodrigues, Caritas Coimbra
As noted by Flavia Rodrigues from Caritas Coimbra, SmartWork provides an opportunity to improve the quality of life at work and provide the employees with the technical tools to work towards the habit changes in their daily lives. After years of participating in the various research and innovation projects in the different areas, it was great to bring the concrete innovation to the organization and its workers. Flavia highlighted the importance of a healthier and friendlier working environment for all employees, as we are all getting older.
Tom Ch. Thomsen from Center for Assisted Living Technology in Aarhus municipality reminded that SmartWork brings a unique added value to the wearables, providing the health and lifestyle advice, based on the monitoring, which is processed by AI. This gives the opportunity to individualize the advice and is quite outstanding, "we have not seen this before", as Tom noted.
Responding to the question on the future exploitation and commencialisation of the SmartWork services, Andreas Raptopoulos from BYTE Computer said that SmartWork can be applied not only to the older workers but to the entire workforce. All companies experience the problem of absenteeism and presentism, often caused by the because life-style related diseases. SmartWork addresses this problem, with the solution that connects the employee experience with actionable insights for the employers to be able to understand the impact of unhealthy working conditions and help both sites to take corrective measures. According to Andreas, the companies interested in the wellbeing of their employees should try SmartWork! "The results of the pilot activities are very promising, we have a good solution", concluded Andreas.
For more insights, watch the video now: