18 Dec

Smartwork @ The Digital Economy Forum 2019

Last month, SmartWork participated in The Digital Economy Forum 2019, which took place in Athens on the 25th November.
The event aimed to highlight the opportunities offered by Digital Transformation to Greece in terms of creating a modern and efficient state, as well as a competitive national economy, with companies that can compete internationally. In particular, the next steps for Greece towards this development path through the utilization of Information and Communication Technologies were the subject of this edition of the forum "Leading Greece to Growth".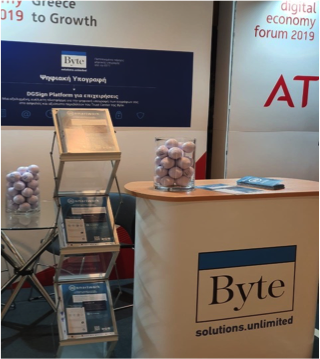 Representatives from the SmartWork project co-ordinator, BYTE, attended the event and took the opportunity to disseminate information about the project, sharing its services and objectives to representatives of sectoral bodies and organizations, representatives of European institutions, world technology market officials and experts, representatives of major digital technology businesses, and other economies utilizing digital technologies.
Keep up to date with SmartWork progress @SmartWorkEU and Sign Up to the Newsletter. Questions? Contact smartwork@echalliance.com